Daniil Ivanovic Harms
(1906 - 1942)
Harms belonged to the group of oberiuts and Marsak's circle of writers for children. His poetry for children develops tradition of reverted world we find in English children folklore, limericks, texts of Cikovski. They belong to new Russian classics.
His plays, arisen as parody on idealistic classical messages on scene ("Jelizaveta Bam") and traditional history thematic ("Comedy of the Town of Petersburg"), represent an forehead of absurdity theatre.
Daniil Harms finished his life in similar manner as his character, Jelizaveta.
He died in prison under insufficiently clarified circumstances.
Harmse's work was repressed until 1941and was rehabilitated after 1956.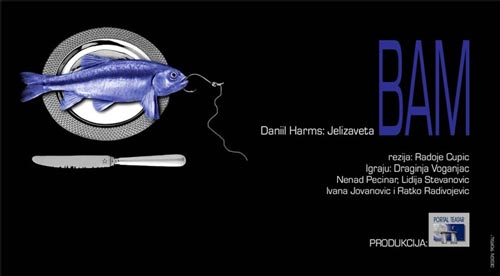 THE ILLUSION OF COMMON SENSE
... In his vision of this play Radoje Cupic tries to, besides the numberless scenes of violence and no existential, moral or ethical judgements in question (what is fully corresponding with Harms), find the previously mentioned illusion of common sense. Wisely relying on our specific "kafkian" experience of living during last ten years, he pretty much succeeds, at least at the first part of the play, to make it merely grotesquely transparent. Communication channels with the play, in fact, work perfectly, concerning the recognition of life situations that are naked, reduced to the level of nonsense and yet "lightened" with humorous parody ...


...Zeljko Hubac, DANAS

TO DREAM, MAY BE TO WAKE
... Radoje Cupic as director, together with group of fine actors, makes apparent relationship of the movements, words and sense on shapeless and yet nevertheless black box space full of symbolic ...
... This show about useless suffer, defence and death of Jelizaveta Bam, has some humorous and inventive scenic solutions (merging and doubling of characters, duel scene, "disappearance" and appearance of characters behind "the wall") and emanates great energy of actors and multitude of their means ...


...Darinka Nikolic, DNEVNIK
---