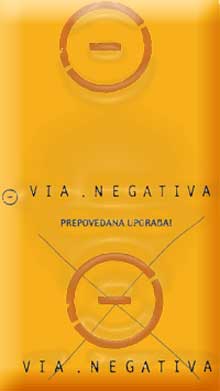 Starting Point: Anger is the first production of Via Negativa and is set in the space and context of the current exhibition at the Ljubljana Museum of Modern Art. Via Negativa has adopted the convention of being staged in a gallery as an integral part of the production. Six performers are presented as gallery exhibits. Each appearance is a 15-minute personal statement by the performer. Each of the six solo appearances are presented in their own room simultaneously with others and repeated seven times. Those in the audience, like touring the gallery exhibition, formulate their own dramatic sequence of viewing the scenes. Special experience of the whole also occurs thorough constant fusion of sound contexts. After the sixth repetition the performers exchange their roles / identities. The seventh repetition challenges the viewer to chose only one scene in which to watch one actor performing the role of another.

The series of ontological theatrical and existential questions is set out with theatrical articulation, clarity and directness... The production is distinguished by on identifiable outline, a clear point of view, the right measure of distanced humour at their own expense, a well though out balance between the rehearsed and the spontaneous, masterful timing and a friendly rapport established with the audience. B. Lukan, Delo

Exchanging the theatrical stage for an art gallery space enlarges the customary theatrical code... The audience is offered a sense of freedom and the possibility of choice. For these points alone the production is unusual and undoubtedly worth seeing.N. Kele, Finance

Via Negativa is research of the theatre. It investigates the relationship between performer and viewer. This research is based on the method of reduction. Theatre as a medium of illusion is not the subject of this investigation. The purpose of VN research is the distillation of a stage presence. The VN research will last seven years. The opening theme of each year's work will be one of the seven deadly sins (anger, sloth, lust, greed, gluttony, envy and pride). The deadly sins are human tendencies marked out by the Catholic Church as the root of evil, and by legal systems as the motive of potential crimes, so they must be controlled and suppressed. The identity of the subject is formed through the mechanisms of defence against sin. The task of the performer in the VN research is through a "public admission"to recognise the sin as a constitutive impulse of their own identity. In the eighth year, the VN research will be concluded by the presentation VIA NOVA.