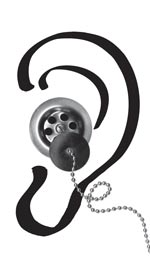 - What are you doing?
- Choosing the passengers in bundles of one thousand. Sending off the trains that take them now to the right, now to the left - said the switchman.
- They re quite in a hurry. What is it they are after?
- That even the engine driver does not know.
Another through train rumbled through in the opposite direction.
- They are coming back already?
- These are not the same; they exchanged.
- Have they not been satisfied with where they had been?
- A man is never satisfied with where he is - said the switchman.
- If I would have 53 minutes off, I would start very slowly for some spring…
The play "Hurry Up" is inspired with a present state of consciousness of the mankind, representing a reflection to the events in the modern world.
The action is situated in the first third of the past century, the period that for its dynamics, dramatics, and turmoil is very similar to the present moment of our lives.
Was there, ever, any different moment at this planet?!
Feodor Mikhailovich Dostoyevski said:
"Adequately enough, the terrible historical experience has shown to us that love towards the humanity, shown by the revolutionaries and utopians, has brought the biggest destructions and most disgusting crimes. Bringing up inside oneself a true love is not a simple task, due to which reason, especially when haughty and grandiose objectives are set, in our lives we are often meet a pseudo-love than real one. In order not to get confused on this way, we acquire huge wisdom."
| | |
| --- | --- |
| | |
Body Talk
Centre for Art of Movement "Madlenium" performed the play "Hurry Up" at Bitef teatar last night. According to the idea and choreography by Svetlana Djurovic, six young artists, with practiced, harmonised movements, showed that words were not always necessary. Body talk together with video art by Ranko Lasica reflected current state of mankind consciousness through the prism of events from the beginning of last century.
Dramatic nature of the play mostly aroused interest with young audience, which, in unusual movements of players' body, recognised speedy and hysterical image of time they live in. This is the moment that carried destruction with it. Politika ekspres
Centre for the Art of Movement Madlenium, led by modern ballet choreographer Svetlana Djurovic, performed its new project "Hurry Up", with plenty of sincere youth energy, at the scene of Bitef teatar, where many performances of alternative dance groups are created.
Being a choreographer who developed herself on the basis of the tradition of Belgrade modern art dance, adopted while working with a pedagogue and choreographer Dubravka Maletic, Djurovic demonstrated seriousness in dance formation of her play. The realisation of her idea on continuous people's hurry and urge for travelling was supported by very danceable music by Jean Marc Zelwer.
In brief: in the first half of last century, in a train going without any timetable, different persons always traveled in a hurry. They are married couple, Tramp, Lady in Black, Courtesan, Girl, Country Woman, who dynamically and always moveably search for unreachable place of relaxation and tranquility. The topic, doubtlessly actual due to its neuroticism both in present time and in past, was varied by Djurovic through the movements, often self-aggressive, strong, and worrying, in disturbed tension, making her performers give their best.