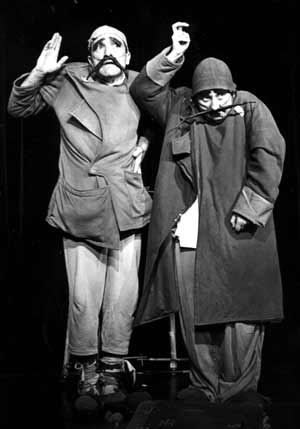 Credo Theatre is a private theatre formation founded in 1992 in Sofia by actors Nina Dimitrova and Vassil Vassilev - Zuek, graduates of the National Academy of Theatre & Film Arts (NATFIZ).
Relying on the creative imagionation and taking for its basis the principles of clownade and improvisation, the company seeks an expressive theatre language allowing the recreation of the profoundness and richness of ideas and characters of the great classical work.
Credo Theatre opened its first theatre season with the production of "The Overcoat" after Gogol which brought the company national and international acclaim. The performance has been presented at over 150 international festivals in Bulgaria and abroad - UK, France, Germany, Switzerland, Belgium, Russia, Ireland, Denmark, Finland, Spain, USA, Italy, Netherlands, Austria, Poland, Greece, Georgia, Lithuania, Czech Republic, Slovenia, Ukraine, Portugal, Serbia, Bosnia, Croatia, Hungary, Romania, Belarus, Iran, Korea.
The production is recipient of 8 International Awards for Best Performance and 2 Awards for outstanding acting. Fot its 2 participations at the Edinburgh Fringe Festival (1996 and 1997)
"The Overcoat" was awarded the highest professional acclaim - 5 stars of the critics in "The Scotsman", and of "The List" magazine, and was announced to be among the best theatre performances of the festival. It was listed in the "Top 20" Best Art Events of the Fringe and Official Festival for 1997 by "The List".
"The Overcoat" has so far been performed in 8 languages - Bulgarian, English, French, German, Spanish, Russian, Greek, Serbian.