THE PASSION OF THE TROJAN WOMEN (LA PASSIONE DELLE TROIANE)
Cantieri Teatrali Koreja, Italy

Duration: 60 minutes

Idea and project: Salvatore Tramacere
Directed by Antonio Pizzicato, Salvatore Tramacere
Cast:
Cassandra - Maria Rosaria Ponzetta
Percussions - Vito de Lorenzi
Choir - Fabrizio Saccomanno, Emanuela Gabrieli
Andromache - Ninfa Giannuzzi
Guitar - Riccardo Marconi
Hecuba - Silvia Ricciardelli
Accordion - Admir Shkurtaj
Astyanax - Fabio Tinella
Texts: Angela De Gaetano, Antonio Pizzicato, Salvatore Tramacere
Live music by De Lorenzi, Gabrieli, Giannuzzi, Marconi, Pizzicato, Shkurtaj
Musical Coordination: Antonio Pizzicato
Direction Assistant: Laura Scorrano
Scenes, Lights and Visual: Luca Ruzza with Bruno Capezzuoli and Fabio di Salvo
Consultant /Griko Translator: Gianni De Santis
Lights and Technical Setting: Angelo Piccinni, Mario Daniele

Thanks to Eliana Forcignanò and prof. Gino Pisanò,
Kurumuny for the images taken from Stendalì by Cecilia Mangini
The Passion of the Trojan Women
The show has different levels of interest. One of these is the relation between Euripides' tragedy and the theme of the Passion of Christ, as it is interpreted in Salento, a region in the South of Italy where ritual popular traditions still live. The song "Passjuna tu christu", for example, is a beautiful music work of the "griko" area where people speak a language deriving from Greek, which is used in some moments of the show.
In Euripides' tragedy, the death of little innocent Astyanax reminds us of the crucifixion of the real Innocent, Christ, thus mixing Andromaca's crying with the crying of the Virgin Mary in a unique, big pain. By putting in relation Astyanax's death with the Passion of the Christ, the pain of the women revises the painful weeping of the mourners, crying for the departed, and is assimilated to the Virgin Mary and the pious women's crying for Christ's death, that are, in their turn assimilated to the Trojan women who, after the defeat, cry not only for the loss of their motherland, but also for the loss of their beloved people, reasons of life.
The whole story becomes a universal tragedy of human sorrow, the big pain of all the mothers forced by the destiny to renounce their sons.
The choir nourishes the creation of sounds and atmospheres which take our mind to so distant, so close places where feelings, voices, words come out together with actions and images. Live music is composed by the musicians on stage, who are interpreters of the musical part which is on the same level of texts and actions. Thus musicians, singers and actors become protagonists of a performance that is something between theatre and music, between concert and theatre performance. And it is extraordinary natural, at the end, finding ourselves coming back to the essence: the human pain of a mother and the sacrifice of the beloved son's innocence, a tragedy.
 Cantieri Teatrali Koreja
Koreja's artistical project is made up of "works", "actions" and "stories" (little or bigger) coming from far away and, above all, from the deep need of building up a "residence for theatre and culture" open to innovations, to the comparison between generations , a kaleidoscope of arts, genres and experiences.
Main activities include production of plays touring both through Italy and abroad, promotion of theatrical and cultural events, such as reviews and festivals, and activity of research, training, theatrical pedagogy through workshops, stages, meetings and exchanges, in collaboration with the teaching of theatre and the history of performing arts at the University of Lecce.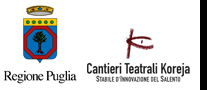 Special Award for Artistic Achievement – Festival Purgatorije 2009, Tivat, Montenegro.
Award for the Best Direction – JoakimInterFest 2009, Kragujevac, Serbia