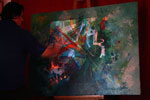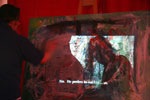 The performance deals with a synthesis of colour, sound, word, movement and shape. Visual information is an inspiration for the creation of a work of art: music, stage movement… The performance is an interactive process in which the painter, film and spectators interactively participate in the exchange of visual information. The vibration of electromagnetic waves of colours in a synthesis with sound, when corresponding perfectly to one another, influence the structuring of water in human organism enabling a spectator to receive visual information on a physiological level.

VISUAL-LITERARY-MUSIC MOVEMENT:
VIDISM
SEE A PAINTING, WRITE A STORY, POEM, MUSICAL COMPOSITION

This method of aesthetical reflection is based on the notion that visual art can become a driving engine in creating a musical composition, a piece of literature, a film, a stage performance… In the process of exploration the focus is placed on the co-relation between the basic elements (rhythm, dynamics, contrast, sound, text, atmosphere, colour and gradation). This yields material for transposing into other forms of expression. The spectator is led into a process of analysis of a work of art, setting in motion the mechanisms of introspection, sublimation and catharsis. The writers are expected to, by watching a painting, sculpture or a photograph, compose a text, which would correspond to the visual sensation.
Goran Ostojić-Vid