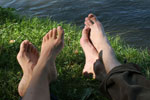 Pic Nic is a dance duo, who finds its inspiration in the moments spent in nature as well as the sounds of nature which determine the rhythm. In dance, presented through a communication of movements, sandwich and juice, body reveals its boundaries and resistance to the given situation. Playing with situations and exploration of the limits actually represents exploration of the possibilities brought about by a simple day spent in nature.  
Julia Carolina Gorosito was born in Buenos Aires, Argentina in 1980. She studied contemporary dance, theatre and acrobatics in Argentina since she was 18 years old. She continued her studies in Europe 7 years ago through dance teaching and performing in street theatre in Italy, Spain, Belgium and Serbia.
Nenad Milošević was born in Belgrade, Yugoslavia in 1976. He is photographer and dancer, living in Belgrade, Serbia. He has rich experience in work on many different dance techniques: classical, modern ballet, also Hawkins, Horton, Cunningham, Releasing, Butoh technique, traditional Indonesian dance (from Bali island), techniques of contemporary dance and dance improvisation. In 1999 he started with professional work as a dancer, performing on many stages and participating in numerous multimedia and international projects and festivals, also in projects for children and youth, and in peace projects (in the country and abroad).